We just bought a place on nearly 4 acres that has no fencing except for a garden fence at the back of the property. We'd like to have a fenced in area for our two dogs. While we trust them off the leash when we're outside with them, we'd like to let them run outside and play unsupervised. Here's a Google map view of our property: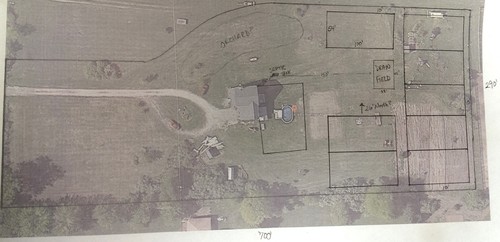 The plots on the right are a tentative layout of our garden/pasture plots. The outline around the pool is where we're potentially thinking of installing the fence for the dogs.
Right now the plot is fairly open, and it's kind of hard for me to visualize what it would actually look like once the fencing is installed. Here's a view of the backyard:

For lack of a better term, would the proposed fence location make the backyard look ugly? I was also wondering if anyone could confirm whether or not the location is practical and raise any issues that we should make sure to consider.
Thanks!